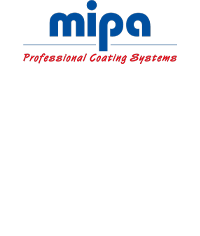 Please note!
MIPA SE takes over the business of Süddeutsches Lackwerk Zelle GmbH & Co. KG.
MIPA SE
Am Oberen Moos 1
84051 Essenbach
Tel. +49 8703 92 20
E-Mail: mipa@mipa-paints.com
www.mipa-paints.com
THE BEST SURFACES ARE KNOWN FOR THEIR GREAT FEATURES.
JUST LIKE THE BEST INDUSTRIAL COATINGS.
What is important to us.
There is no second chance for a first impression.
Our coatings add value to surfaces that you can see at first glance.
Our personalised customer service is designed to provide solutions in the field of industrial coatings, the best possible coating protection, and great looking surfaces.
Who are our customers.
We live and breathe coatings. It's been our passion since 1922.
Therefore, we can offer our customers the best experience in individually tailored coating systems with unique properties that add real value.
Whether the challenges are temperature resistance, functionality, corrosion protection or formulations for special applications, we have the solution for you.
What makes us different.
Expect more from your coating manufacturer.
With our combination of expertise, specialist knowledge, flexibility and prompt personal service, our customers know they always have the right partner by their side.
It's great when a relationship is this easy.
"Wetterwart coating systems from Süddeutsches Lackwerk represent uncompromising product quality and reliability.
Since our beginnings in 1922, we have taken pride in developing innovative products for our customers, providing the best possible protection for their surfaces, as well as enhancing them visually and functionally."

Thomas di Filippo, Managing Partner
Your questions – our answers.